Term 3 Highlights 2023
In Personal Social and Emotional Development, we have been thinking about the rules we have to follow in school. We have spoken about good manners, sharing, and what it means to be a good friend. We put all these things into practice when playing different board games as a class.
In Physical Development we have been learning to travel in different ways, make big and small shapes on both the floor and apparatus. Our challenge was to see if we could hold our shapes for the count of three!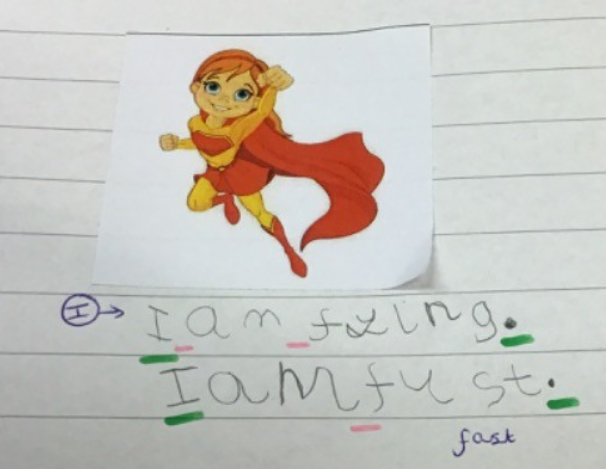 In Literacy we have been writing sentences to describe the different powers that Superheroes have i.e. I am fast. We had to remember to start our sentences with a capital letter, remember to include finger spaces and a full stop at the end of our sentence.
In Maths the children have been working with numbers between 0-10. They have consolidated the skills of subitising amounts used arrangements of skittles to subitise within larger groups.
The children have also been investigating how to record the composition of number using the Part/Part/Whole model as well as practising counting skills and beginning to link numerals to amounts. The children have investigated this both practically and through formal recording and have loved exploring this further in ID.
In Expressive Arts and Design we have been learning to use our bodies to make different sounds. We used our voices to make high and low pitched sounds and percussion instruments to explore tempo.
In Expressive Arts and Design we made our own 'Super Onions'! We drew our onion and labelled it with the materials we wanted to use. We then used this design to help us make our final product!
In Understanding the World we have been exploring the jobs of doctors, nurses, fire fighters, dentists and many more. The children have been very excited about role playing different jobs and have been really confident to share their own stories about visiting the hospital or dentist. The children have also talked about what an emergency is and have practised calling 999 and asking for police, ambulance or fire brigade if they needed them.
We have also investigated events and people from the past including Florence Nightingale and talked in detail about how her work and beliefs have influenced hospitals in the present day.
The children have carried out an investigation about keeping their teeth healthy and were amazed by how coke and coffee stained their teeth. They have learnt how to brush their teeth properly and keep their mouths and teeth healthy through visiting the dentist.
In Religious Education we have been looking at special places. We were able to recall that a special place for a Christian is a Church and for a Muslim a Mosque. We looked at similarities and differences between special places by exploring them from the outside and inside.